4.)
†Anthony Stanley Paprocki (Walenty1), was born 15 May 1880 in Poland (Ger) and came to Rochester, New York in 1888 with his family.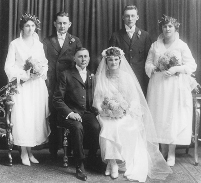 He married Mary Elizabeth Czapla 25 November 1920 in St. Stanislaus Church. She was born 15 August 1890 in Rochester, New York, the daughter of Anton Czapla and Katharina Wojciak. After they were married they lived with Mary's parents at 264 Weyl Street, moving about 1924 to 740 Norton Street.
Anthony was a tailor. He first worked for Garson, Meyer & Company, which was located on St. Paul Street. About 1917 he started working for Frederick L. Keller who had a few tailor shops in the city. Anthony started as a foreman at 125 Weaver Street and the next years was at the shop on Berlin street. During World War I the Keller shops turned out several Army contracts for trench coats.
In 1920 Keller merged with Sol Heumann and Conrad Thompson to form the Keller, Heumann, Thompson Company, Inc. clothing manufacturing form. A short time later Anthony became a superintendant of the branch shop at 85 Avenue E and later manager. In the later 1930s failing health caused Mr. Keller to suspend much of his activity and some of the branches were consolidated. In 1938 Anthony was again a foreman at the Berlin Street branch.
On 10 January 1939 Mr. Keller died and on 20 September 1939 the firm changed its name to Timely Clothes, Inc. With this reorganization Anthony became once again a tailor, working primarily out of the main plant at 1415 Clinton Avenue North.
---
The Echo Singing Society

CHARTER MEMBERS. BACK ROW, LEFT TO RIGHT: Edward Sypniewski, Leon Badura, Eugeniusz Oszywa, Michal Dobosz. MIDDLE ROW: Maryan Szatkowski, Kazimierz Pilznianski, Wladyslaw Bartczak, Boleslaw Naglik, Walenty Jablonski. FRONT ROW: Antoni Wardynski, Josef Kuzminski, Franciszek Piorczynski, Antoni Paprocki, Jan Chlebowski, Stanislaw Binkowski, Ignacy Pilznienski. (Norman T Lyon, 1935)
---